Millions of users trust Grammarly's writing app to make their online writing clear and effective. If your Outlook is used for professional emails, we strongly recommend Grammarly! Grammarly helps you to proofread your email, analyze the tone and recommend some appropriate corrections.
By using Grammarly daily, you do not only improve your communication but improve your writing.
Grammarly is readily available as an Outlook Add-In. The free version is really good but if you have the budget, upgrade to Premium.
Main Benefits of Grammarly Premium:
Clarity-focused sentence rewrites
Tone adjustments
Word choice
Formality level
Fluency
Additional advanced suggestions
Duplicate Email Remover analyzes your mailbox to find and remove duplicate emails. The Outlook Add-In embeds a compelling search tool that can search through any email or folder within Microsoft Outlook. Users can tailor the research by using the many fields for searching, such as the subject, sender, and recipients.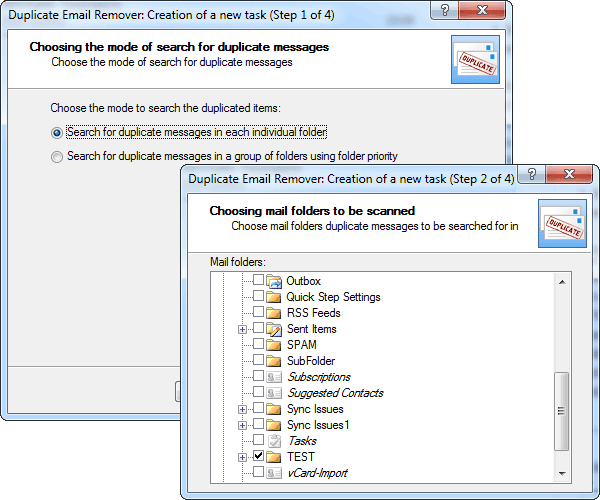 Once duplicates are found, the Outlook add-in flags those duplicate email messages for your review. You can also define rules to move those messages directly to the bin. Overall, Duplicate Email Remover is a very valuable tool for professionals.
With the pandemic, everyone has discovered the power of Zoom and it has become a tool we use daily.
Zoom's secure, reliable video platform powers all of your communication needs, including meetings, chat, phone, webinars, and online events. It is a very common application for remote workers and online schools.
Zoom Plugin for Outlook allows users to set up a Zoom meeting in a few clicks.
The add-in offers two options: Schedule a Meeting or Start Instant Meeting. Creating a meeting with Zoom Add-In only takes a few seconds.
The piece of software is extremely useful for remote workers and professionals that spend a lot of time in online meetings.
If you ever work in a support or helpdesk role, you know how powerful canned responses could be. These prewritten sentences can save you a lot of time.
Text Lighting is a "Canned Responses" add-in for Outlook.
If you are tired of repeating the same thing such as your company address and directions to get there, or giving a short description of your company products and services, you can preload this information in Text Lighting and then reuse them in other emails.
This useful Outlook add-in can also support variables which means that these canned responses can be customized to your recipient name for instance.
Text Lightning is a free add-in available with Outlook 2016, 2019, and Microsoft 365.
This add-in does not only target project managers but can also be extremely useful to organize your daily life.
For those who are not familiar with Trello, the cloud software is an Agile project management tool with Kanban boards and cards. By using the add-in on Outlook, you can create and update cards directly from the mail software. With Trello Add-In, any email can be turned into a new task with a due date set to it.
The Trello add-in is compatible with Outlook Web and Outlook desktop versions. 
Mailbutler is a productivity extension for Microsoft Outlook, Apple Mail and Gmail designed to help professionals and teams manage emails better.
Mailbutler comes with an extensive suite of features that help over a hundred thousand users achieve their ideal work-life balance every day: schedule emails ahead of time, keep track of opened links and emails, easily manage multiple signatures, turn messages into tasks; these are just a few of the many features Mailbutler offers.
An extremely versatile extension, Mailbutler helps freelancers and teams alike with its collaborative features and integrates seamlessly into your inbox. Mailbutler: The email extension that does it all.
Last but not least, TokaiMail is your email security companion for Microsoft Outlook.
According to Sophos, 37% of respondents' organizations were affected by ransomware attacks in the last year. The average ransom fee requested has increased from $5,000 in 2018 to around $200,000 in 2020.
Protecting your company against ransomware can be a pricey and lengthy process. The first layer of defense against cyber threats is the users of your organization. It is crucial to educate them to detect and flag attacks as soon as they hit their mailboxes.
TokaiMail puts the user at the center of the threat mitigation strategy. The Add-In main features include scanning attachments in TokaiMail Cloud Sandbox, scanning URLs contained in Emails, and finally scanning the sender domain. The add-in is very light and easy to use daily.
Ready to give it a try? Buy Tokaimail Outlook Security Add-In now!
We also provide volume discounts upon request. Feel free to contact us.